Testimonials
We are so proud of the work that we do for our customers. Please take a moment and read what they have to say about their experience working with us.
---

We worked closely with Lateral Design Studio to design and deliver a bespoke channel gully for a new public realm scheme for Grosvenor located in the heart of Belgravia. The expertise and dedication provided by John and his team helped to ensure the delivery of a high-quality element, cast, crafted and finished in Yorkshire, contributing to the beauty and individual character of and important London street.


Jason Malyan, BDP Landscape Architect
---

Their products exude sophistication while addressing functionality. Customised or the stylish ready-to-fit range has made Lateral Design Studio a first choice for designers & architects.


Vanessa Brady OBE, SBID President and Lateral Design Studio Ambassador
---

We had such a bizarre shape to present to Lateral Design Studio and I have to say my husband was a little concerned that with all the angles things might not work out and we could be making an expensive mistake. I was also concerned that as a small domestic client we may get overlooked but this was not the case at all and your care and effort was really helpful in making sure we got the correct measurements.

---

The advice on how many covers would be needed to minimise any cuts or wastage was also helpful and did result in us requiring less covers than we had originally anticipated. We are so pleased with the results and the ease with which the system went in. So if novices like us can use the system than anyone can! The covers have certainly made an impact. We get positive feedback every time we get visitors. In fact we had some building work on the house recently and the builders actually commented on the drain covers.


Elaine, Private Client
---

Their cutting edge drain channels bring style and interest to an ugly and boring necessity.


Garden Design Journal
---

Aquascape is now providing the products that designers have been crying out for, Drainage is now sexy.


Juliet Sargeant M.S.G.D
---
Get in Touch
If you'd like to hear more about our products and how they can benefit you then please get in touch.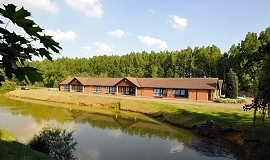 Lateral Design Studio Ltd
Unit 4 Double Arches farm Eastern Way Heath & Reach Bedfordshire LU7 9LF

Call Us: 0208 450 2244
Email Us: info@lateraldesignstudio.co.uk