Grosvenor Estates
We were commissioned by BDP Architects and Grosvenor Estates in Belgravia to design and deliver a bespoke channel gully with frames to meet current bylaws, but also to give Motcomb Street in Belgravia a new village feel, so that its residents could take ownership of their shared space.
The design and the finished look were extremely important for the design team to meet their client's brief. The design needed to honour the style of the historic Victorian castings found located around the estate. The cover was required to have the street name and area clearly displayed. The casting was to reflect the history of the Victorian foundries and their craftsmen who toiled over the detailing and ensuring the finished castings reflected their artisan passion. A suitable method of pre-aging had to be found to finish the casting, so as not to appear as the usual hunk of black cast iron so commonly found in our urban streets today.
The casting was designed in London and cast by a foundry in Grimsby, Yorkshire, making it a truly British product. John our managing director is very proud to have his and our company's name cast into history within the castings for posterity.
Get in Touch
If you'd like to hear more about our products and how they can benefit you then please get in touch.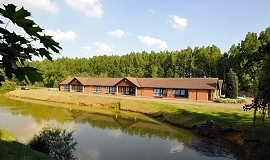 Lateral Design Studio Ltd
Unit 4 Double Arches farm Eastern Way Heath & Reach Bedfordshire LU7 9LF

Call Us: 0208 450 2244
Email Us: info@lateraldesignstudio.co.uk