Greening Grey Britain Show Garden
2016 RHS Chelsea Flower Show
Lateral Design Studio has longstanding relationships with many nationally-acclaimed designers, providing aesthetically solutions to a number of applications, complementing their sublime designs.
At the 2016 RHS Chelsea Flower Show, Ann-Marie Powell was invited by the RHS to design its 'Greening Grey Britain' garden. The campaign was launched to persuade the public that paving over front gardens for parking has consequences that reach far beyond the aesthetic and therapeutic advantages of front garden plots, which have been shown to benefit whole communities, not just individuals.
The garden design had to also demonstrate effective rainwater harvesting solutions, including a desirable drain-channel cover. That is when Lateral Design Studio got the call.
After turning to Lateral Design Studio, we were able to produce a cast iron 'Minione' cover for Ann-Marie, which showed that drainage can be an attractive feature too. It included IP68 channel lighting within the garden environment, directing runoff to a soakaway or rain garden, without contributing to local flooding.
Get in Touch
If you'd like to hear more about our products and how they can benefit you then please get in touch.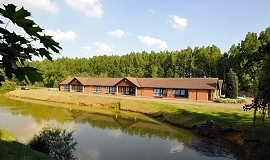 Lateral Design Studio Ltd
Unit 4 Double Arches farm Eastern Way Heath & Reach Bedfordshire LU7 9LF

Call Us: 0208 450 2244
Email Us: info@lateraldesignstudio.co.uk