Bespoke Products
Our design team is always available to create beautiful designs. We aim to work alongside our clients to create bespoke drains that are unique to them but also meet the required load classes. So, whether it is your company logo, family crest or to show the provenance of where the grating will be installed, look no further than Iron Age's tailored service.
We pride ourselves on being able to offer you and your clients the most comprehensive range of materials and finishes. In addition to our standard range of cast iron, we can supply brass, bronze and powder coated finishes; the possibilities are truly endless.
To find out more about the finishes available please click here or contact our office on 020 8450 2244. Our standard range of products and bespoke services have transformed many projects on time and to clients' exact requirements. Here are some examples of our work.
Example Project

Get in Touch
If you'd like to hear more about our products and how they can benefit you then please get in touch.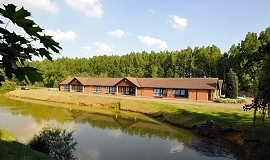 Lateral Design Studio Ltd
Unit 4 Double Arches farm Eastern Way Heath & Reach Bedfordshire LU7 9LF

Call Us: 0208 450 2244
Email Us: info@lateraldesignstudio.co.uk